Family History
The Odyssey
Some family lore indicates that the Schneiders were Swiss German and during the 18th century, waves of German immigrants swept into North America, lured by the promise of religious freedom and good farm land. By 1750, Pennsylvania Germans made up half the population of that area. Whether they came from Switzerland or somewhere in the Rhine Valley, we know our Schneiders spoke the German language.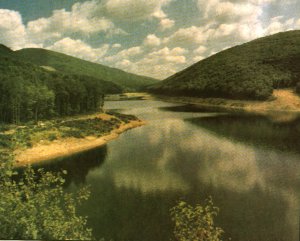 The long journey across the Atlantic must have been a dreadful experience for our ancestors. Passengers were crammed into dark, smelly, over-crowded spaces. They were invariably seasick, at least until they became accustomed to the heaving of the ocean. There were no proper sanitary facilities and water for washing was scarce.
German immigrants entered America at three ports: Philadelphia, New York and Baltimore. Because such large numbers of German-speaking people had chosen to settle in Pennsylvania, authorities decided their arrival should be monitored, and ordered captains to record the names of all their passengers. Research books and several websites provide access to these passenger lists with the names of vessels and captains, the date and port at which they landed, and the names of the German immigrants. Pennsylvania Germans were also required to appear before a magistrate within one month of their arrival and take an oath of loyalty to the King and the British government.
In the case of our family, immigrants with similar given names and surnames were so numerous that it has been a challenge to discover which of the many Schneiders arriving in 18th century Pennsylvania, were our ancestors.
The family name was spelled in various ways: Schneider, Shnieder, Snyder, Schnyder or other adaptations, depending on who wrote it. If the recorder-keepers spoke German, they used, "Schneider". In the church register of the Mount Bethel, Northampton County, Lutheran and Reformed Congregations, a German-speaking parish where Jacob and his family worshipped in 1777, their name appeared as "Schneider", meaning scissors-cutter or tailor.
Pennsylvania German settlers proved to be frugal, diligent and productive farmers. The rich limestone soil and fertile valleys of eastern Pennsylvania must have reminded them of the Palatinate in the Rhine Valley, former home of many such immigrants.
With their arrival in Pennsylvania, our forebears were safe at last in the New World, ready to begin life in the far-away land of which they had only dreamed.
Conflict in the New Land (Family History continued)
Patricia Snider Armstrong © July 2000